Bear scare for young family in Gowlland Todd Park
West Shore
2021-07-06 12:09 PDT
File # 2021-12525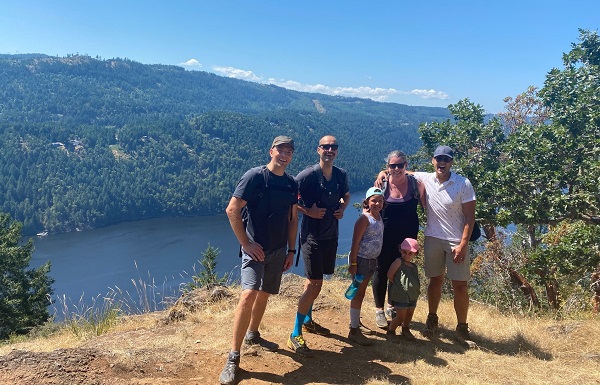 On July 3, 2021, members of the West Shore RCMP's Bike Unit were conducting Search and Rescue training in Gowlland Todd Provincial Park, Highlands, BC, when they got a surprise.

At approximately 3 pm, the officers encountered a distraught family, which included two young children. The family had been hiking when they encountered a bear, which caused them to flee and lose their orientation. Luckily, they ran right into the officers, who identified themselves and made sure the bear wasn't still in the area. After getting a great photo all together, the officers escorted the family back to their vehicle.

Since our officers won't always be out training in the hills, we encourage you to prepare for the elements while you are out hiking this summer. The West Shore RCMP have seen an increase in calls from lost and disoriented hikers. This often requires officers to hike into the bush after dark to retrieve people and guide them out.

Here are some common hiking tips to help keep you and our wildlife safe this summer:
Always tell someone where you are going and which route you are planning to take;
If you are new to the trail systems, take a map with you or snap a photo of the trail system to keep on your phone;
If you are planning a long hike, pack a power bank in your backpack for your cellular phone;
Pack first aid supplies – even a small pack is good as you never know what you may encounter;
Water;
More water;
Secure all food and attractants to remove temptation to wildlife;
Check the weather before you leave;
Carry a whistle, should you need assistance it carries much farther than your voice;
If you are in bear country, watch for scat and digs. If you see any, turn around and find a new path;
Be loud to let bears know you are around, they will avoid you if they are able to;
Keep small children close, if they run it could trigger the bear to attack;
If you do see a bear, make calm loud noise, (non threatening) and back away slowly, leaving the area.
Be safe and have fun this summer!


Released by

Cst. Meighan Massey

Media Relations Officer
West Shore RCMP
https://westshore.rcmp-grc.gc.ca (English only)
698 Atkins Avenue, Victoria, BC V9B 3A4
Office: (250) 474-2264
Fax: (250) 474-8970


Email: westshore_media@rcmp-grc.gc.ca

Follow Us: